A video allegedly showing a drunken man entering a lion enclosure in Delhi Zoo, India on February 2, 2023 has gone viral among Nepali TikTok users. Newschecker found the video to be old and shared a recent incident.
TikTok user @mk_ktm2019 posted a video showing a youth sitting next to a lion apparently trying to talk to the big cat. The man can be seen even lying on the ground and treating the lion as a dog. A voice-over accompanying the video says, "See this man reach near a lion in Delhi, see his guts, even the lion seems to be afraid of him. Last year a tiger killed a man in Delhi. It seems that human beings become bold after consuming alcohol. Either you kill it or die." In the background, people are heard screaming and telling the guy to lie down. Text superimposed on the video reads, "February 2, 2023 Delhi Zoo. After a drunken youth went to fight with a lion."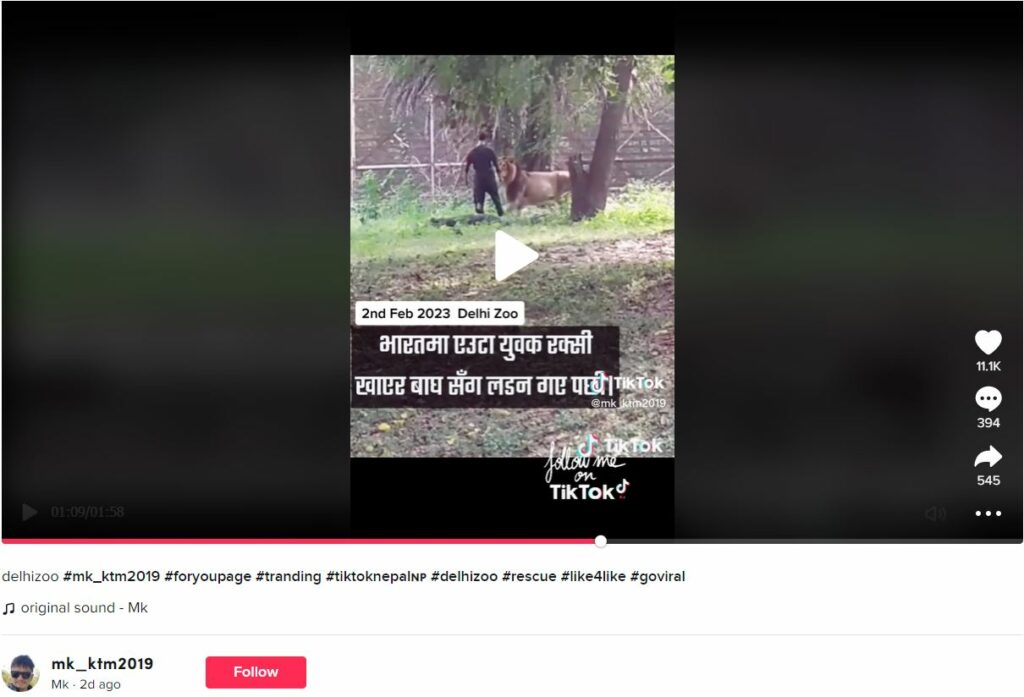 The video posted on February 4 has garnered  11.1k likes, 540 users have shared it and 394 people have commented on it until the time of publishing this article.
Fact Check /Verification
To check the authenticity of the claim made in the viral video, Newschecker took a keyframe from the viral video and conducted a reverse search on google which gave several results. On checking a video posted on the YouTube Channel named News Station, we found that the footage matched the viral video. The footage posted on 17 October, 2019 showed the moment when a man jumped inside the enclosure of a lion in Delhi Zoo. However, the man escaped unhurt as the zoo staffers swung into action quickly and rescued the person by tranqualising the lion.
Taking it as a clue, we conducted a search on YouTube by using the keyword 'Youth enter Lion enclosure in Delhi Zoo' and found a video posted on the YouTube channel of Hindustan Times. The video report titled 'Man enters lion's enclosure in Delhi Zoo, rescued safely' shows footage whose frame matched the viral video. According to the report, a 21-year-old man, who was said to be mentally disturbed, climbed into the lion enclosure by scaling the iron grill before being rescued safely.
Newschecker investigation revealed that the man who made it inside the lion enclosure is not drunk but mentally disturbed and the footage was from October 2019.
Conclusion
The viral footage showing an alleged drunken youth inside a lion compound in Delhi Zoo is from October 2019 and shared as a recent.
Result: Missing Context
---
If you would like us to fact check a claim, give feedback or lodge a complaint, email us at checkthis@newschecker.co You can also visit the Contact Us page and fill the form.