Even as governments and international organisations from around the world have been responding with offers of support after a 7.8-magnitude earthquake ravaged Turkey and northwest Syria, a video purporting to show a Nepal Airlines aircraft carrying relief items from Nepal landing in Turkey has been going viral on TikTok. Newschecker found the claim to be misleading.
TikTok user @nepoliansushant posted a video showing a Nepal Airlines aircraft landing at an airport. Text superimposed on the video reads, "Nepali rescue team in Turkey. Pray for Turkey and Syria."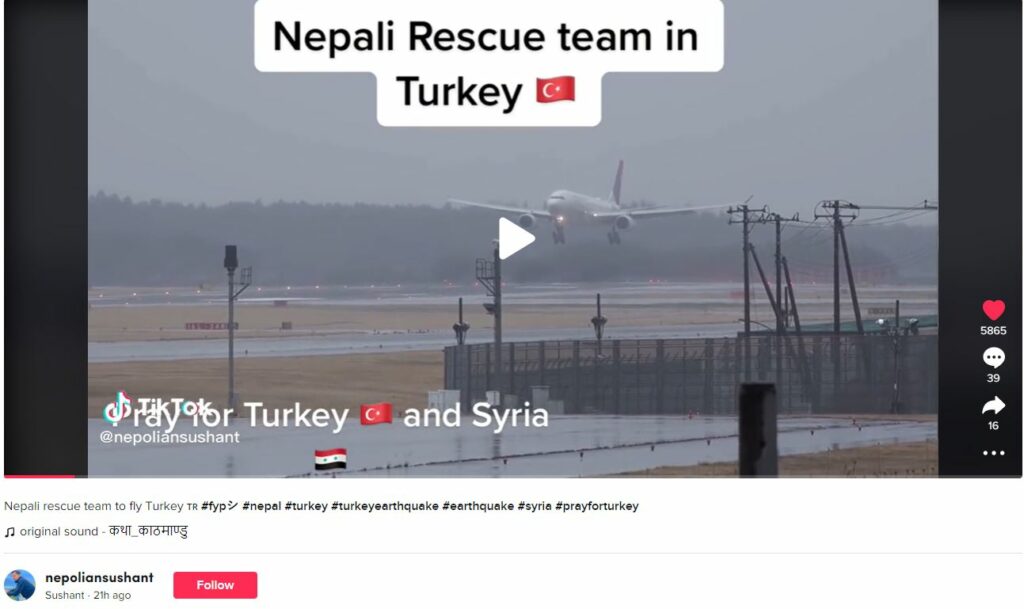 The video posted on February 9 has been liked by 5865 users, and 16 users have shared it and and 39 people have commented on it until the time of publishing this article.
Nepal Government To Send Relief to Turkey
The government on Wednesday decided to send medical teams and relief packages to the earthquake-ravaged Turkey.
A meeting of the National Council for Disaster Risk Reduction and Management held at the Cabinet office made the decision to send relief packages at the earliest. Recalling the support extended by the Turkish government when Nepal was hit by a devastating earthquake in 2015, Prime Minister Pushpa Kamal Dahal said it is crucial to support and stand by Nepal's close friend Turkey in its difficult times.
Fact Check / Verification
To check the authenticity of the claim made in the viral video, Newschecker took several screenshots from the video and conducted a reverse-search and tried to geolocate the images. However, the search didn't give any relevant results.
Then we reached out to the communication expert at National Disaster Risk Reduction and Management Authority, Ranjana Shrestha, to ask about the status of relief packages to be sent to Turkey. She told Newschecker that the relief items are still being collected and have not been dispatched yet. "The humanitarian aid will most probably be dispatched to Turkey on Saturday or Sunday via Turkish Airlines or Jazeera Airways," said Shrestha. She further added that it has not been certain about sending the medical and rescue teams.
Further, Newschecker enquired with Ganesh Ghimire, joint spokesperson at Nepal Airlines, who said that though Nepal Airlines was being considered for dispatching the relief packages to Turkey, it has not been confirmed yet.
Our findings so far suggested that the plane is not landing in Turkey airport with humanitarian aid from Nepal. We analysed the location and surroundings of the airport and realised that it is not Kathmandu airport but outside Nepal. We searched on YouTube for videos of Nepal Airlines landing in several international destinations where Nepal Airlines operates its flights including Delhi, Mumbai, Doha, Bangkok, Kuala Lumpur, Bengaluru, Narita, and Hong Kong.
While searching for a video by using keywords 'Nepal Airlines landing at Narita Airport' we found a video whose frames from 0.23-minute onwards exactly matched the viral video. The video was posted on the YouTube channel named 'Akino33 Aviation Video Channel' on 4 March, 2020.
Conclusion
Nepal has not yet dispatched humanitarian aid to Turkey yet, the viral video purportedly showing a Nepal Airlines aircraft with a rescue team from Nepal landing at an airport in Turkey is misleading. The video actually shows old footage of a Nepal Airlines aircraft touching down at Narita International Airport in Japan in March 2020.
Result: False
Sources
Akino33 Aviation Video Channel, 4 March 2020
Direct Contact With Nepal Airlines Joint Spokesperson Ganesh Ghimire
Direct Contact With NDRRMA Communication Expert Ranjana Shrestha
---
If you would like us to fact check a claim, give feedback or lodge a complaint, email us at checkthis@newschecker.co You can also visit the Contact Us page and fill the form.