As Kathmandu Metropolitan City (KMC) mayor Balen Shah intensifies the demolition drive to remove the illegally constructed structures in the city, a video purported to show illegally parked motorbikes being crushed by a bulldozer is going viral. Newschecker found the videos to be old and unrelated.
TikTok user @luvchan62 posted a video showing a bulldozer rolling down a row of parked motor bikes. Text superimposed on the video reads, "Illegally parked motorbikes crushed. Good Job Balen." The video caption also reads the same. We can also notice the logo of Nepal Times on the right corner of the video.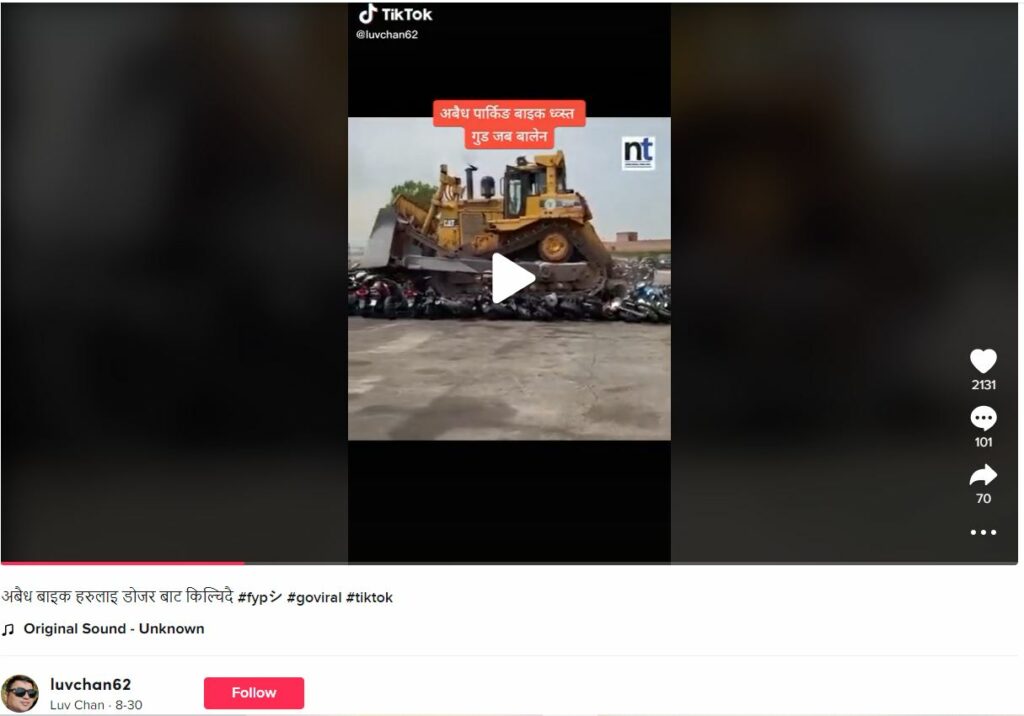 The video posted on August 29 has garnered 2031 likes, 65 shares and 95 comments until the time of publishing the article.
Fact Check /Verification
To check the veracity of the claim made in the viral video, Newschecker took a keyframe from the video and conducted a reverse image search on Google which threw up several results matching the viral video. On checking a video published on the USA Today, we found that the frames of the video exactly matched the viral video. The report revealed that the video showed illegal motorbikes being crushed under the rollers in New York as part of a new safety initiative announced by Mayor Eric Adam on June 22, 2022.
We also conducted a search on YouTube using keywords 'dirt bikes destroyed in New York' and found several videos of the same event in which the bikes were crushed.
Further, we conducted a search on social media to find the source of the video as the viral video carried the logo of an online media named Nepal Times. We found a video report on Facebook by using Nepali keywords, 'bulldozer' 'motorcycle' Nepal Times'. The video report of Nepal Times online was posted by user Lenin Banjade with a caption calling everyone to support the ongoing demolition drive of Kathmandu's Mayor Balen Shah. The Nepal Times report was also about the New York Mayor's move to crush the illegal bikes.
Conclusion
A video, allegedly showing bulldozers crushing illegally parked motorbikes as part of Kathmandu's mayor Balen Shah's move to reclaim the public space, is actually from New York, USA.
Result: False Context /False
Sources
---
If you would like us to fact check a claim, give feedback or lodge a complaint, email us at checkthis@newschecker.co You can also visit the Contact Us page and fill the form.