An eleven-second video showing a tiger's close encounter with a group of tourists is going viral on social media, with users claiming that the incident took place in Nepal's Bardiya national park. Newschecker has found that the incident  is not from Nepal and is from 2021. 
The video showed a group of tourists on a safari vehicle trying to photograph the big cat when it leaps onto the wall separating it from the tourists, reaching very close to one of the groups. Few people are heard shrieking in the background, while the tiger is seen standing undecided for a few seconds, before it treads away. "Another sad incident in Bardiya, this is how the tiger mauled a man in Bardiya in a third attempt," text superimposed on the video read.
The video was posted on TikTok by user @sabai_khabar0, whose post on June 10 has received 13.1k likes, and 79 shares.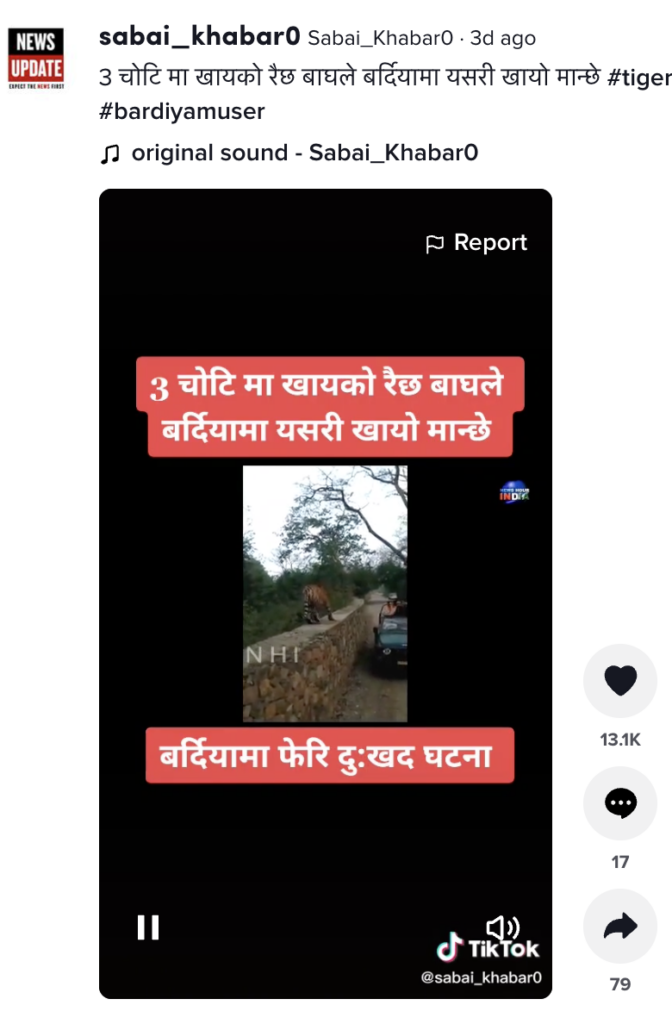 Nepal's Bardiya National Park is known for bagging this year's TX2 Award, along with India's Sathyamangalam Tiger Reserve (STR), for doubling the population of wild tigers since 2010. The tiger population in Bardiya increased almost five times from less than 20 tigers in 2009 to almost 90 in 2018. However, the prestigious international award has come to Nepal at the cost of human lives as at least 23 people have been killed in tiger attacks in Nepal since 2019.
Fact Check /Verification
To check the authenticity of the claim made in the video, Newschecker conducted a keyword search for latest news regarding tiger attacks in Bardiya, but couldn't find any recent reports.
On further research, we found a video exactly matching the frames of the viral video, posted on the YouTube channel 'News Hour India'. The caption of the video uploaded on 22 January, 2022 revealed that the incident showed a close encounter of tourists with a tiger at Ranthambore Forest India.
Using this as a clue, we conducted a keyword search on google using the words "Ranthambore Forest Tourist Encounters Tiger" and found a news article published in Indian Express titled 'Watch: When visitors got a rude shock from Ranthambore big cat.' The images and video used in the news matched those seen in the viral video. 
Indian Forest Officer Sushanta Nanda also shared the same video on his twitter, calling out the tourists for their careless behaviour.
Our findings make it clear that the viral video was captured in Rajasthan, India.
Conclusion
The video claiming to show a tiger attempting to attack tourists in Nepal's Bardiya national park is actually from an incident that happened in Ranthambore National Park in Rajasthan, India in 2021.
Result: False Context /False
Sources
---
If you would like us to fact check a claim, give feedback or lodge a complaint, email us at checkthis@newschecker.co You can also visit the Contact Us page and fill the form.