A video showing a massive column of smoke rising into the sky through a row of buildings has gone viral on video sharing social media platform TikTok, with the allegation that the United States of America has carried out an arson attack in Nepal.  Newschecker has found that the video shows a regular fire and has no links to any arson attack by the US. 
TikTok User @parbinregmi05 posted a video showing a plume of smoke billowing into the sky from behind a row of buildings. Text superimposed on the video reads, "This morning at 10:14, America [the US] carried out an arson attack. Watch the full video and like for the sake of mother Nepal."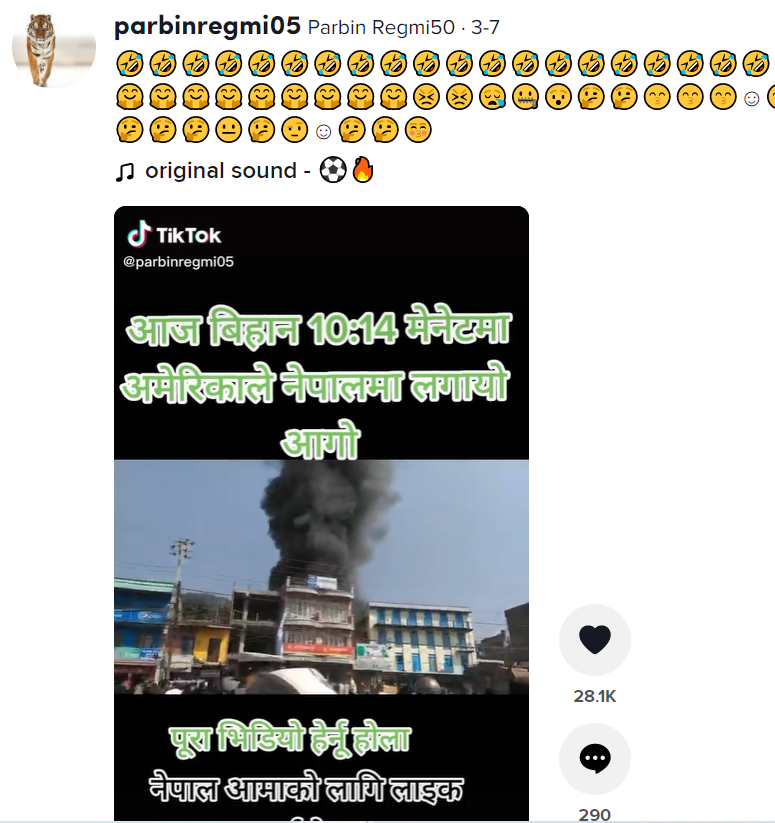 The video posted on March 7 has been liked 28.2k times, shared 193 times and 290 users have commented on it until the time of publishing this article.
Fact Check /Verification
To check the authenticity of the video, Newschecker took different key-frames from the video and conducted a reverse image search on google. However, none of the results shown matched the inferno incident.
Then we looked for news on google regarding the recent fire incidents in Nepal and found an article with images matching the viral video. The developing news article titled 'Two fire trucks from Pokhara reach Damauli' was published on myrepublica.com on March 6, 2022. The photos used in the article gave us a compelling clue that the video was from the fire incident in Damauli.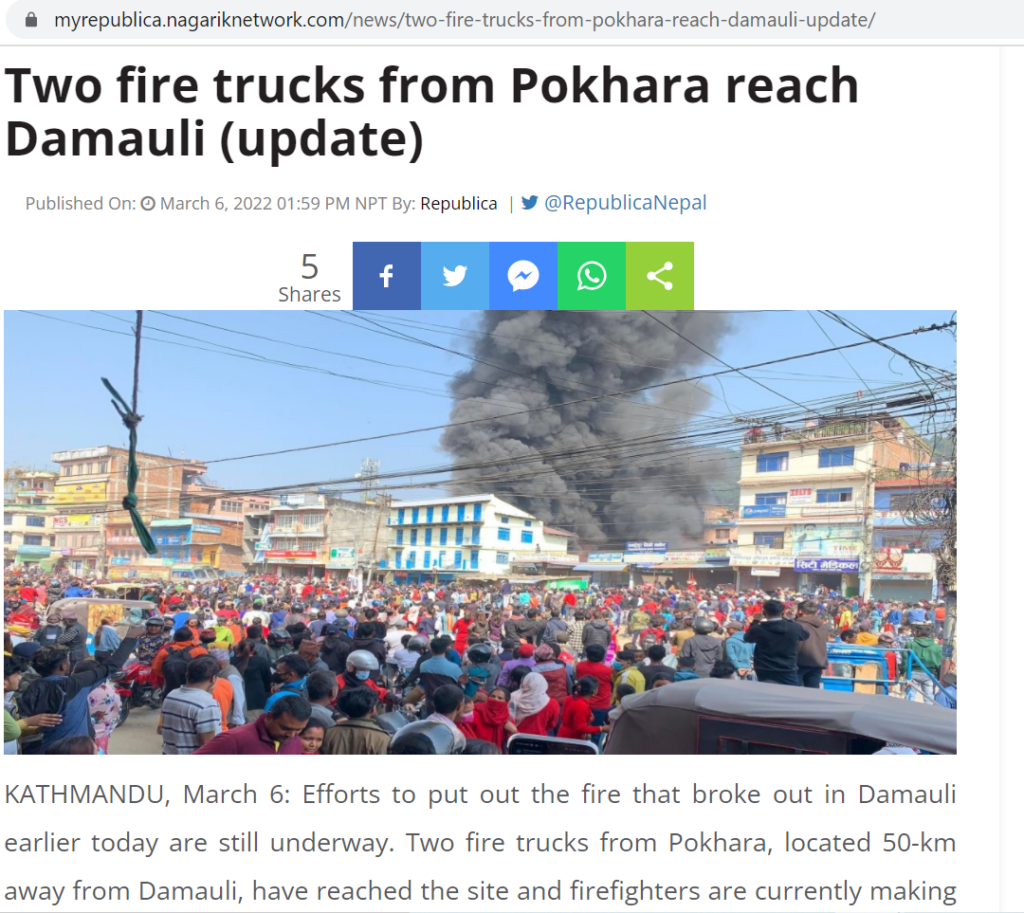 The news quoted Deputy Superintendent of Police (DSP) Yubraj Khadka that the fire broke out at 10 am from a warehouse of a hardware store in Byas Municipality of Damauli.
Further, we searched for other videos from the incident and came across a video posted on the YouTube Channel of Big Entertainment Khabar. The footage from timestamp 0.6-minute bears a close resemblance to the viral video. Our findings make it clear that the footage was from a fire incident in Damauli of Tanahun district that happened on March 6. Watch the video:
How did the fire start
My Republica, quoting Assistant Chief District Officer Kasiram Gaire of Tanahun, said that the fire started from a hardware store belonging to Bhupal Ale before spreading to the nearby shops. Other reports said that the fire was doused after nearly four hours with the help of a helicopter.  
Conclusion
The viral video from the recent inferno in Damauli was falsely shared as an arson attack by America, and is thus False .  
Result: False context/False  
Sources
The Himalayan Times
Sudurnews.com
---
If you would like us to fact check a claim, give feedback or lodge a complaint, email us at checkthis@newschecker.co You can also visit the Contact Us page and fill the form.