With the annual Dashain festival coming to an end, a 15-second video is going viral claiming that the government has extended the Dashain holiday by two days allegedly after the post-monsoon rainfall deprived the people from visiting their relatives for Tika. Newschecker found the claim to be false.
Hindus across the country mark the festival by offering worship to Goddess Durga for the initial nine days and by visiting relatives for Tika from the 10th day of Dashami until Kojagrat Purnima, the last day of 15-day Dashain festival. However, the incessant rainfall during the festival dampened the spirit of the people and forced them to stay indoors and cancel their travel plans.
Against this backdrop, TikTok user @yadab71 posted a video, which shows generic images of Dashain festival and visuals of rains and a road blocked by landslide. Text superimposed on the video reads, "Tika for an extra two days." Audio accompanying the video presented in a news bulletin style says, "Nepal government has made arrangement for additional two days for Dashain Tika after the latest bout of rainfall ruined Dashain festival depriving them of visiting their relatives. The government is announcing a holiday for two more days."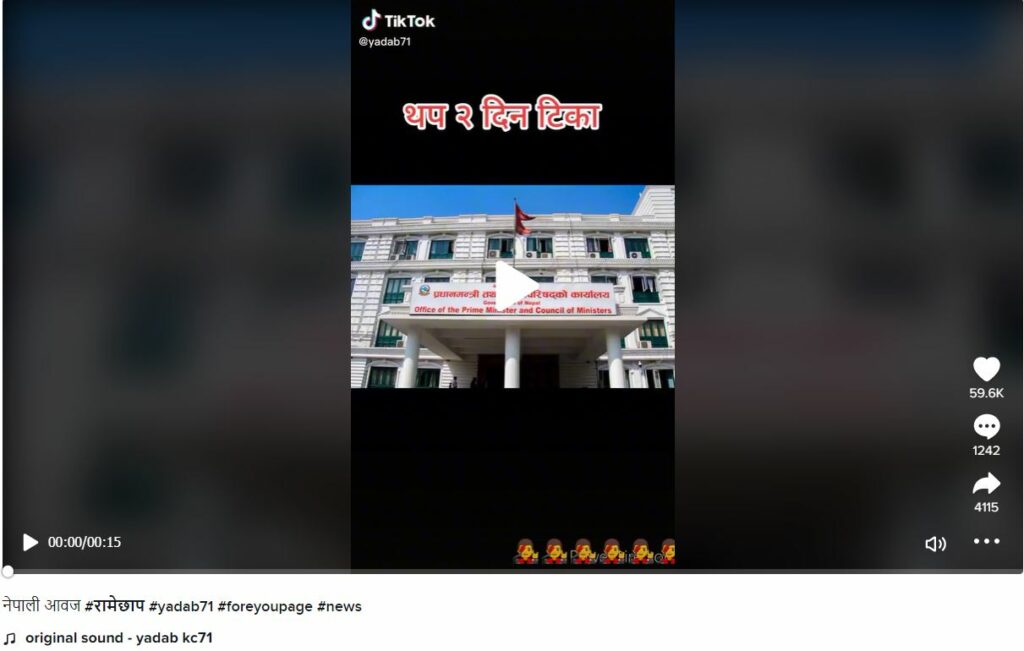 The video posted on October 8 has garnered 59.6k likes, 1242 people have commented on it and 4115 users have shared the video until the last count.
Fact Check / Verification
To check the authenticity of the claim made in the viral video, Newschecker split the video in several keyframes and conducted reverse image searches on the frames. However, we could only find the original sources of two images of the Nepal Government Office of the Council of Ministers. The other images and visuals used in the video show children receiving Dashain Tika, a highway blocked due to landslide debris and people commuting on a rainy day.
Further, we checked for notices if the government had announced such a decision in view of the deteriorating weather condition during the festival time. But we didn't find any decision regarding additional Dashain holidays.
We checked for the official Dashain holidays for the year 2022 (i.e. 2079 BS) published in Nepal Gazette and found that the government had decided to provide Dashain holidays for this year from October 2 to 7.  On checking the website and twitter page of the Ministry of Home Affairs, which usually publishes the notices regarding impromptu government holidays, we could find no such holiday notices or decisions.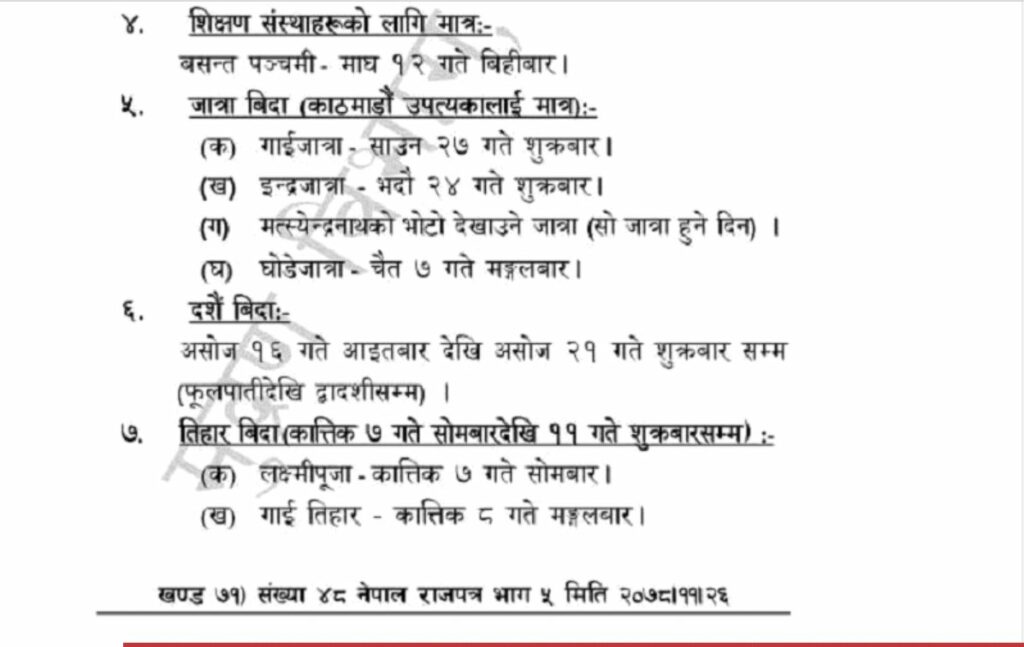 Conclusion
Nepal government had not issued any notices or announced to extend the Dashain holidays taking into account the nation-wide heavy rains during the annual festival. The viral video is false. 
Result: False
Sources
Nepal Ministry of Home Affairs / Twitter
---
If you would like us to fact check a claim, give feedback or lodge a complaint, email us at checkthis@newschecker.co You can also visit the Contact Us page and fill the form.