The year 2022 witnessed many international events from Russia-Ukraine war to Sri Lanka's economic crisis, Iran's uprising against repressive regime to death of UK's Queen Elizabeth II and FIFA World Cup in Qatar, among other incidents. Alongside these global events, many incidents from floods and landslides to local and general elections happened in Nepal. These events obviously provided a fertile environment for weaving and spreading misinformation. We at Newschecker caught and debunked many fake news and misinformation surrounding the issues concerning the general public.  As we bid adieu to 2022, here is a look back at the 10 major false claims that Newschecker debunked in 2022.
Did Army Chief Sharma Warn Leaders Over MCC Compact?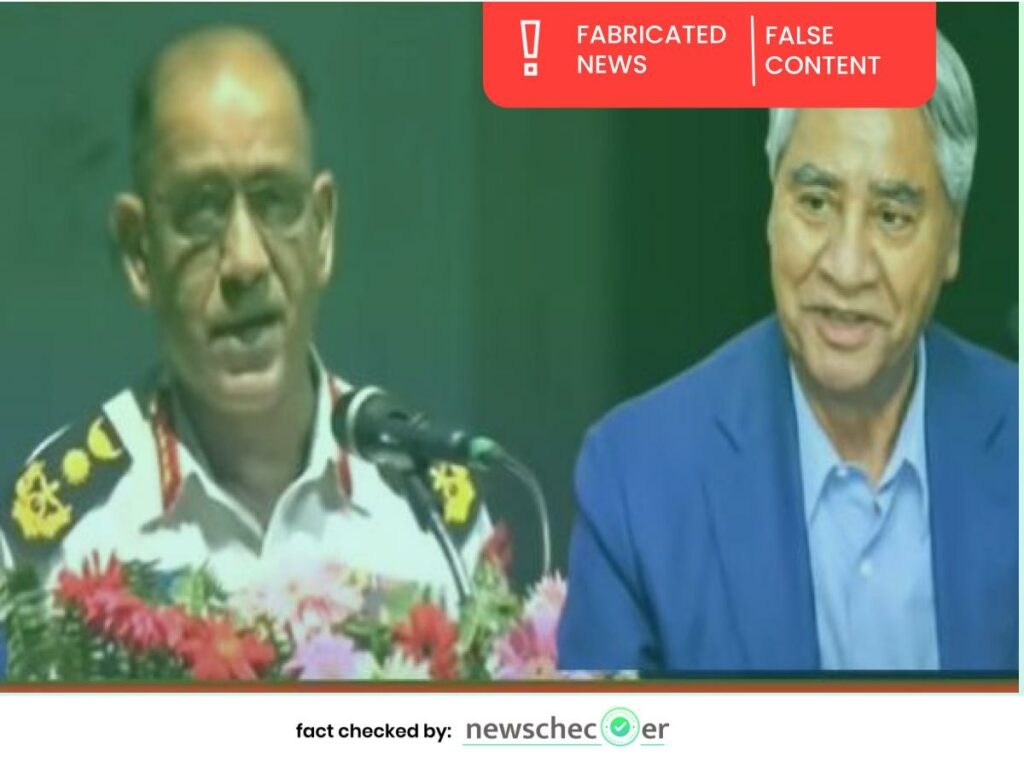 The issue of parliamentary ratification of US Millennium Challenge Corporation (MCC)'s Nepal compact has left the ruling coalition sharply divided, misinformation and manipulated contents surrounding the issue were being widely shared among Nepali social media users. Two videos allegedly showing Nepal's Army Chief Prabhu Ram Sharma warning that no leaders would be spared if the MCC is ratified against the spirit of the general public are going viral. A video, showing visuals of Nepal Army Chief Prabhu Ram Sharma addressing a programme, while two mugshots of Prime Minister and Nepali Congress President Sher Bahadur Deuba are displayed—one each on the right and left of the video. Text superimposed on the video reads, "Army chief warns that no leader will be spared if the MCC is ratified against the spirit of the people." Read the full fact check here.

Has Ukraine's President Asked Gorkha Soldiers For Support? No, viral videos are fabricated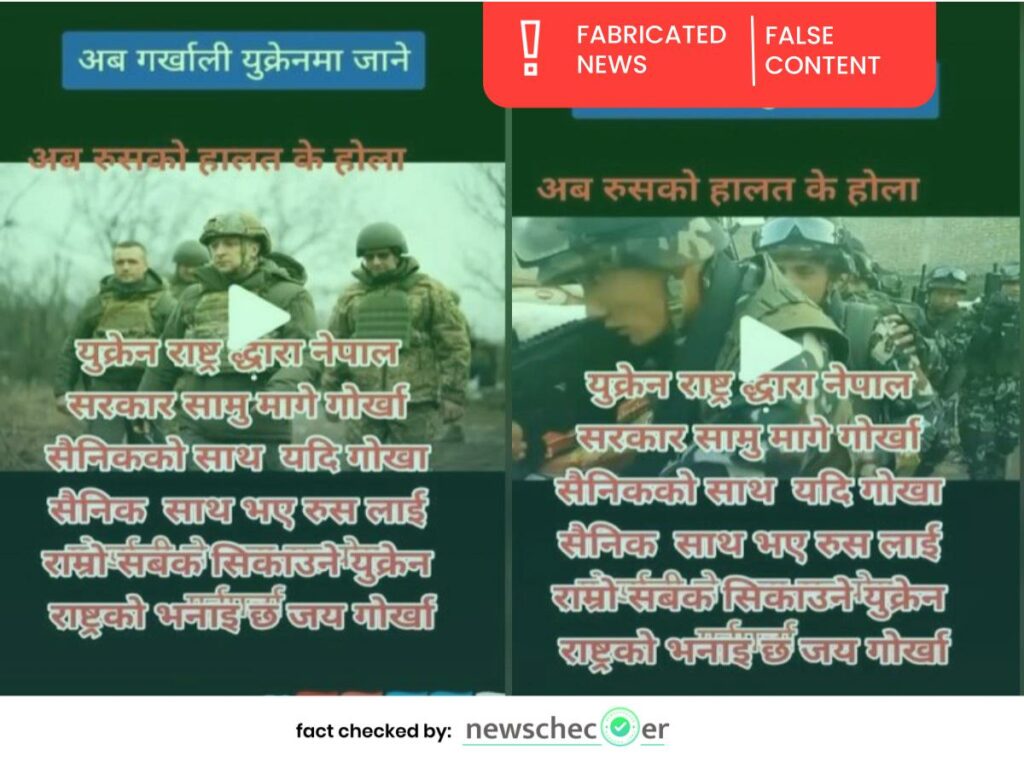 Ever since Russia launched an all-out attack on Ukraine, many unrelated images, videos, and false information regarding the ongoing Russia-Ukraine conflict are making their way online.  No wonder that this virtual trend has made it difficult for many people to distinguish between what's true and what's not.  Amidst this inundation of unsubstantiated claims, two videos claiming that Ukraine's President Volodymyr Zelensky has urged Nepal's government to send Gorkha soldiers to support his country's war against Russia, are going viral on social media platform TikTok. The videos further claim that Zelensky has said that he can "teach a lesson" to Russia if he gets the support of Gorkha soldiers.
A video showing a mix of visuals including Ukraine's President donning army combat gear, Nepal's Prime Minister Sher Bahadur Deuba, a military parade of Nepali Army and Nepal Police personnel. Text superimposed on the video reads, "Now Gorkhali soldiers are going to Ukraine. What is going to be the plight of Russia?" Audio accompanying the video says, "Ukraine's President has spoken to the Nepal government seeking support of the Gorkha army. The Ukraine's President says if Ukraine gets the support of the Gorkha army, then they can teach a good lesson to Russia." Read the full fact check here.
Footage From Recent Inferno In Damauli Falsely Shared As Arson Attack By The US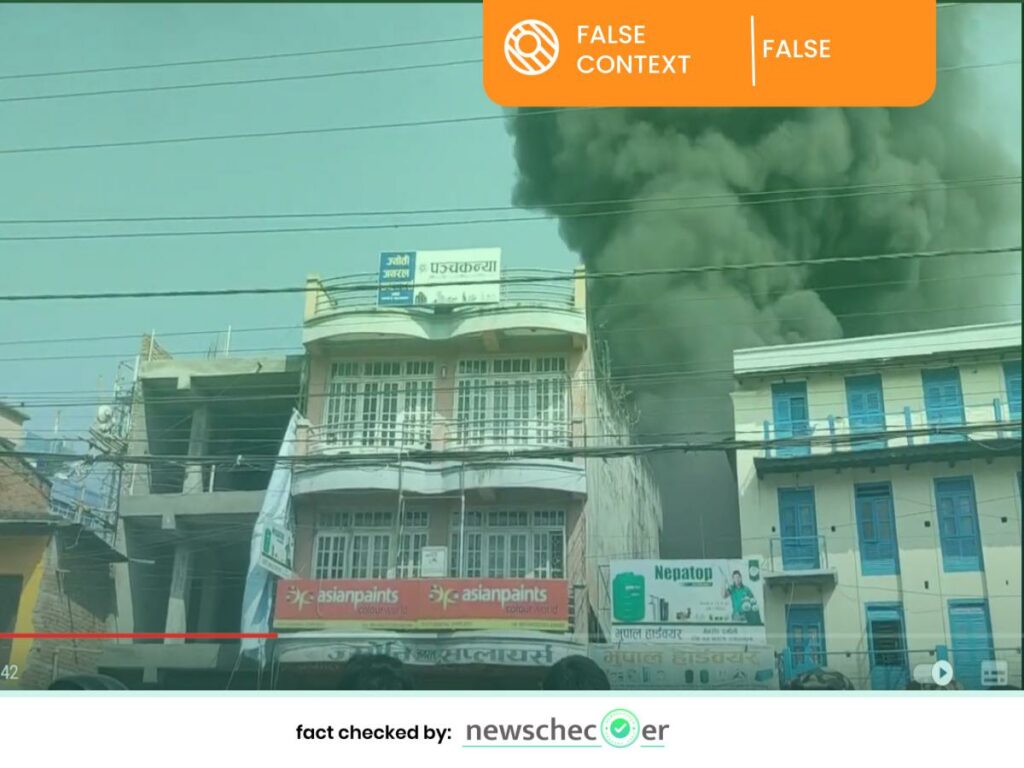 A video showing a massive column of smoke rising into the sky through a row of buildings has gone viral on video sharing social media platform TikTok, with the allegation that the United States of America has carried out an arson attack in Nepal.  A video showing a plume of smoke billowing into the sky from behind a row of buildings was shared on TikTok. Text superimposed on the video reads, "This morning at 10:14, America [the US] carried out an arson attack. Watch the full video and like for the sake of mother Nepal." Read the full fact check here.

Viral Video From 2015 Showing Devastating Earthquake In Nepal Shared As Recent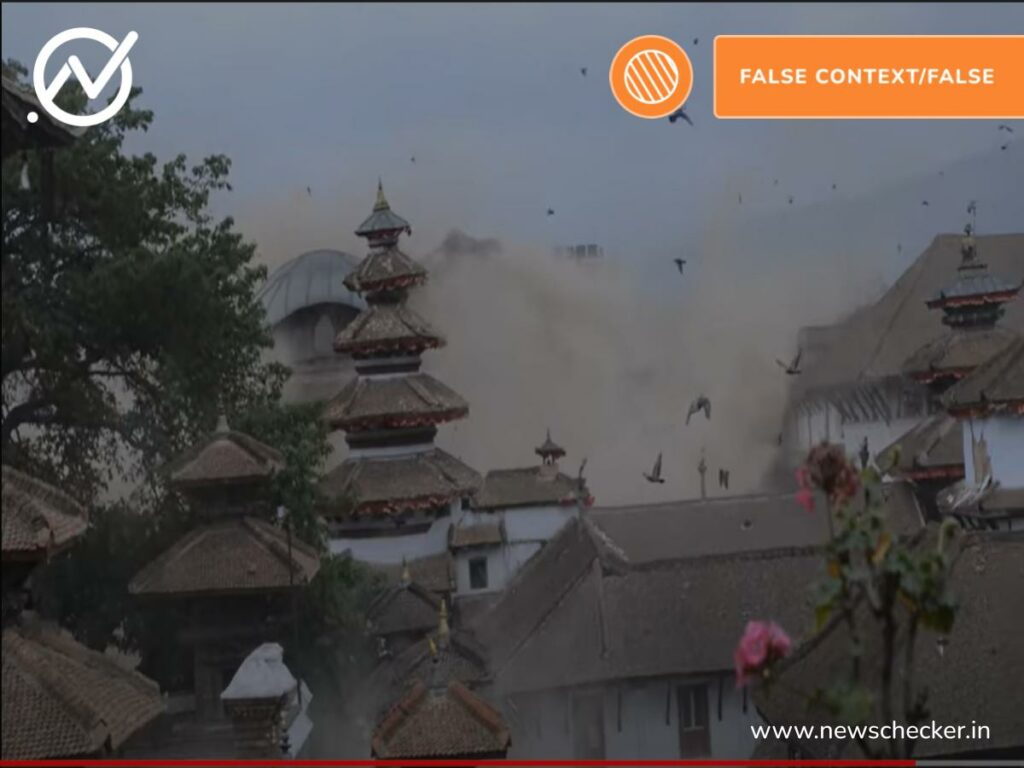 As Nepal marked the seventh anniversary of the devastating earthquake that struck Nepal in 2015, a video claiming to capture the moment when a fresh quake struck Nepal recently is going viral among TikTok users in Nepal. The viral video shows visuals of temples shaking and clouds of dust rising during an earthquake. Text superimposed on the video claims, "An earthquake jolts Kathmandu, 28 March, 2022." Read the full fact check here.
No, Woman With Rahul Gandhi Is Not Chinese Diplomat Hou Yanqi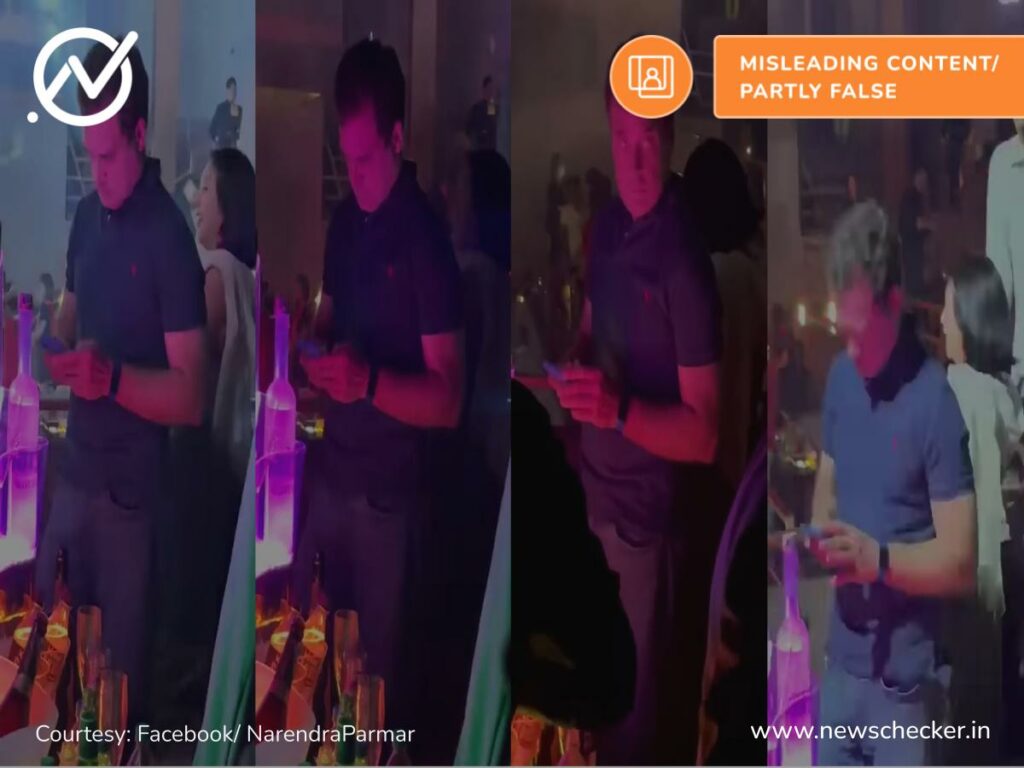 Rahul Gandhi's visit to Nepal in May triggered strong reactions in political circles and spilled onto social media after a video surfaced showing the senior Congress leader attending an event at a nightclub in Kathmandu with a few others. Some social media users shared the viral video identifying the woman seen with Gandhi as Hou Yanqi, China's Ambassador to Nepal. The video showing Gandhi at a club in Nepal blew up on social media on Tuesday with BJP's Amit Malviya writing, "Rahul Gandhi was at a nightclub when Mumbai was under siege. He is at a nightclub at a time when his party is exploding. He is consistent. Interestingly, soon after the Congress refused to outsource their presidency, hit jobs have begun on their Prime Ministerial candidate…" Read the full fact check here.
Old Image Of IAF Chopper Shared As Tara Air Plane Wreckage In Nepal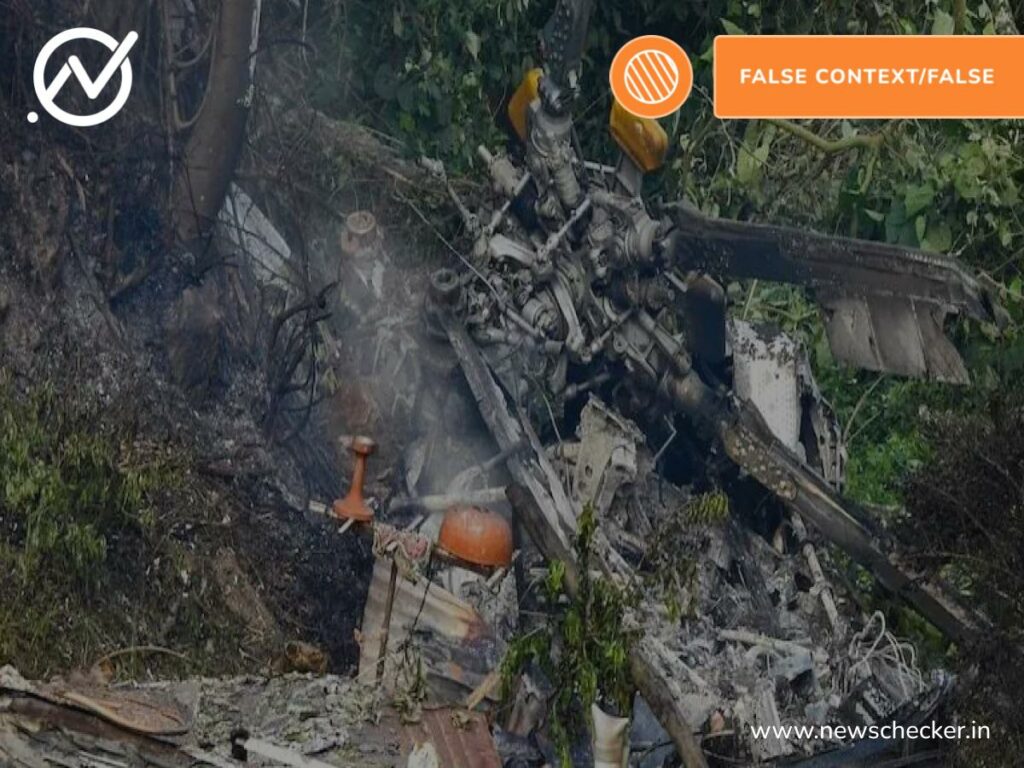 Hours after an aircraft operated by private airlines Tara Air went missing with 22 passengers onboard, an image purportedly showing wreckage of the missing aircraft is being widely shared online. Even as the authorities try to locate the missing aircraft, social media is flooded with condolence messages and an image purported to show wreckage of the Tara Air aircraft.
Newly elected vice chairperson of Tribeni Rural Municipality, Kalikot district, Parbati Singh uploaded a Facebook post with an image. "Extremely sorry to hear the crash of an aircraft taking off for Jomsom from Pokhara with 22 people on board. I express my deepest condolences to all the deceased," the post reads. However, the post has been removed now. Read our full fact check here.
Viral Image Of 'Sri Lankan Protesters Assaulting Lawmaker' Actually Shows Pro-Govt Mob Attacking A Priest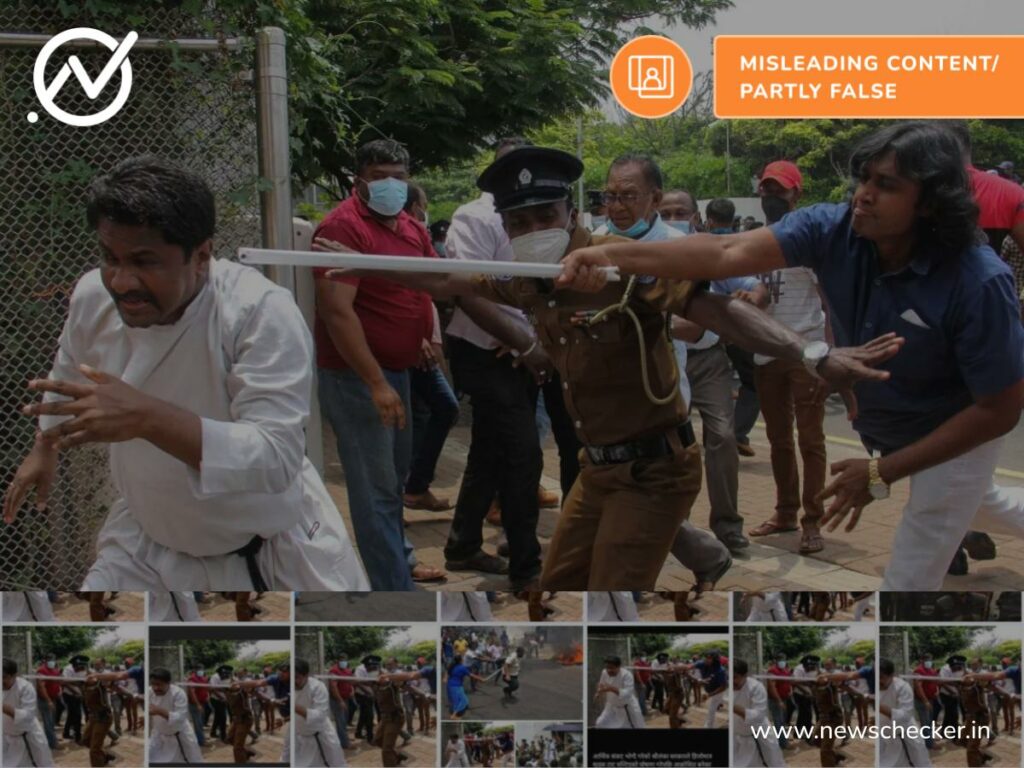 As Sri Lanka battles its worst economic downturn since independence from Britain in 1948, reports of sporadic violence and clashes from across the island nation found its way to the social media. In this context, a dramatic moment captured on photograph, showing a man attacking another with an iron rod as a police officer attempts to break up the fight, is going viral on social media. Users sharing the image claimed that the image showed an angry public dragging out and thrashing a Sri Lankan lawmaker. Those sharing the image on Facebook was Nepali cine artist Aashika Tamang, who is popular among Nepali social media users. She has uploaded a Facebook post with the image. "The people of Sri Lanka have dragged the lawmakers from their homes and beaten them satiating their frustration after the cash-strapped government yesterday declared the economy completely collapsed," reads the post. Tamang is also a social activist. Read our full fact check here.
Viral Image of NC Leader Gagan Thapa Donning T-shirt Bearing Maoist Logo Is Edited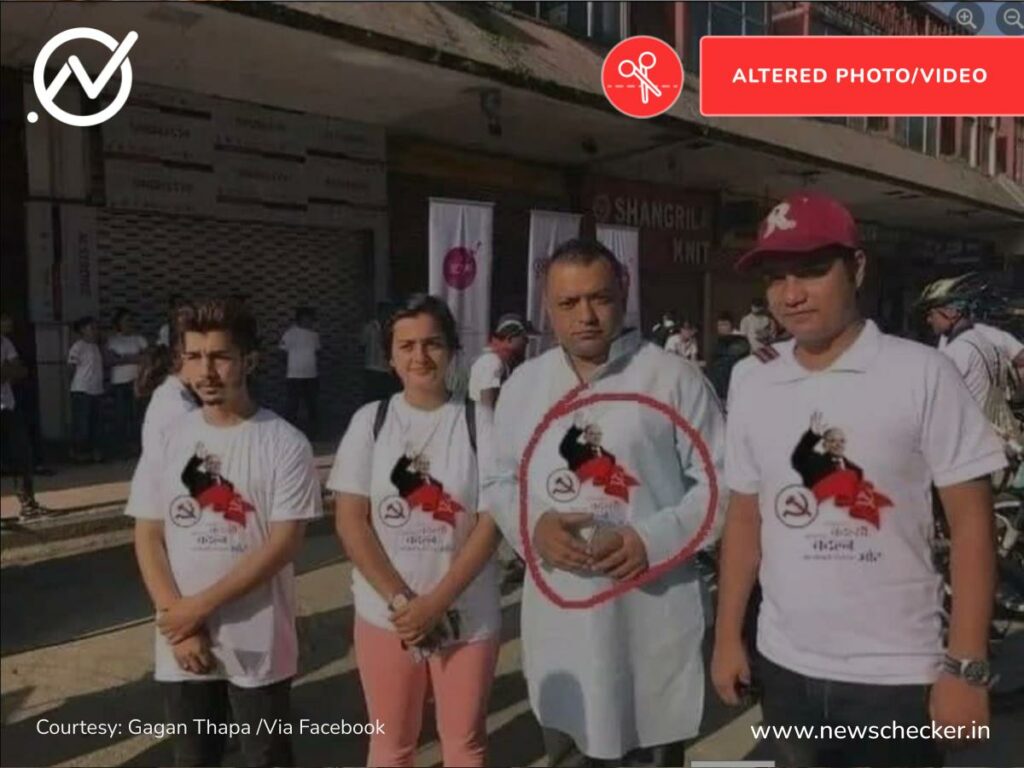 An image of Nepali Congress General Secretary Gagan Thapa and independent candidate Ranju Darshana along with two other men purportedly donning white T-shirts bearing the image of Communist Party of Nepal (Maoist Centre) Chairman Pushpa Kamal Dahal and his party's election symbol, hammer and sickle, is being shared online. Those sharing the image claim that Thapa and Darshana are campaigning for Maoist leader Dahal and his party. Newschecker found the image to be edited. Read our full fact check here.
Viral Claim That Argentina Has Issued Bank Notes Featuring Messi Is Misleading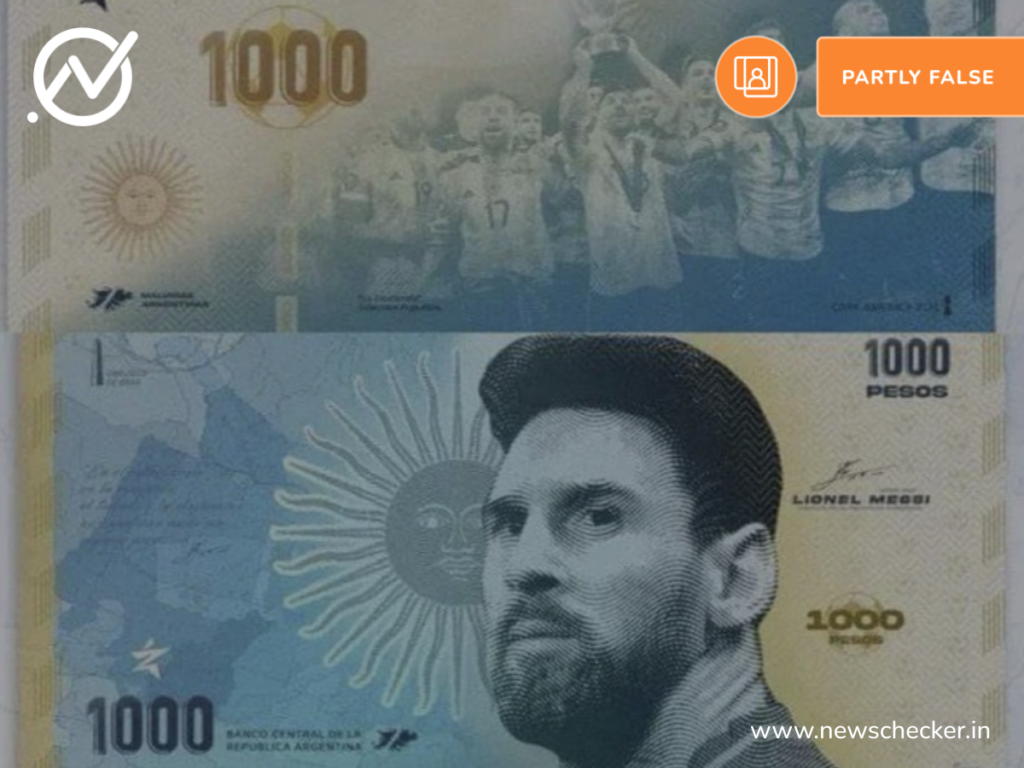 Lionel Messi-inspired Argentina clinched the FIFA World Cup trophy in Qatar after beating France in a sensational final. The victory was a perfect capping off for a dazzling career of the Argentine superstar and the only feather missing in his cap. Against this backdrop, there are media reports that the Central Bank of the Republic of Argentina has proposed putting Lionel Messi's picture on their 1,000 pesos banknote to mark their nation's historic World Cup triumph. Taking a cue from these unconfirmed reports, some Nepali news portals and social media users have widely shared an image of 1000 pesos featuring Lionel Messi and his signature, claiming that the South American nation has released a bank to honour Messi upon his arrival. Newschecker found the claim shared with a missing context.  Read our full fact check here.
Old Video Of 2019 Floods In Mugu Shared As Recent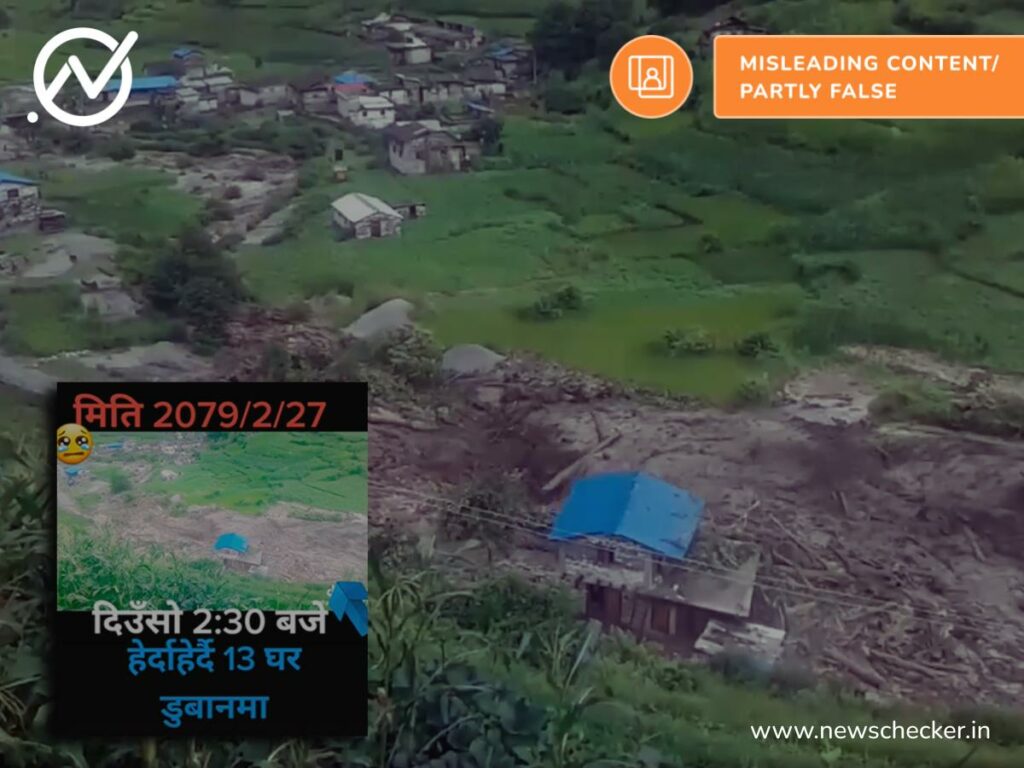 A 22-second video showing flash floods wreaking havoc in a village, sweeping through farm lands and levelling trees, while residents flee away from the raging waters, is going viral on video sharing platform TikTok, claiming to show a recent incident. A video showing flash floods wreaking havoc in a village, sweeping away trees and destroying farm lands is shared on TikTok. Text superimposed on the video reads, "This [flood] happened at 2:30pm on June 10, 2022.  People were forced to become mute spectators while 13 houses were swept away by the flood." Read our full fact check here.
---
If you would like us to fact check a claim, give feedback or lodge a complaint, email us at checkthis@newschecker.co You can also visit the Contact Us page and fill the form.